While we don't sell EVs, nor do we promote any specific type(s) - although the directors constantly bicker over who has the best one, here at Charge My Street we understand there are a whole host of questions you might have if you are considering making the switch. Here are the three questions that seem to crop up most often, with links to our favourites resource for all things EV, Dr Euan McTurk's Plug Life Television YouTube channel:
Why buy an EV?
Less damaging to the environment and cheaper to run are our top two reasons. This is a long piece that explores the issues in depth, but if you expand the description below the video window you can jump to different sections.
What about the environmental concerns?
There has been much in the press about EVs actually having more of an environmental impact than normal cars. We think this pretty much answers that misconception.
How do I charge an EV, and how long does it take?
A seemingly simple question, but not a straightforward answer, so try looking at this link https://www.zap-map.com/charge-points/ or watching
As we grow, gain experience, and interact with community projects and partners across the UK we will post useful resources - links, documents etc - here. So check back periodically to see who we've been talking to.
Barriers of Electric Vehicle Ownership-Debunked
As the government's ban on combustion engine vehicles looms closer in 2030, more consumers than ever are beginning to look at alternatives to their current vehicles. However, with the excitement of change comes perceived barriers and concerns. Here at Charge My Street we would love to debunk some myths or quell some concerns you may have taking the step to purchasing your first Electric Car.
Range Anxiety
Probably the biggest concern new adopters to electric vehicles have is range anxiety, with your current vehicle you can comfortably complete day to day journeys with little worry you will run out of fuel. While the range of electric vehicles is improving all the time, they do need to be charged more frequently than most internal combustion engine vehicle. The UK now has more charging locations than petrol stations but needs to grow and be more conveniently located to meet the increased demand. Charge My Street are constantly trying to improve provision with community funded charge points available to anyone with an EV.
With an improved distribution of chargepoints there is very little chance you would be without charge given some planning. Gone are the days of total reliance on home charging and an electric vehicle only being available to those with driveways. But to ensure the growth in electric vehicles is sustained providing benefits ahead of the 2035 deadline the convenience of chargepoints must continue to improve.
In a 2019 survey conducted by the Department of Transport (DOT), they discovered the most common trip length for a driver in the North West is under 10 miles, with very few drivers driving 50 to 100 miles per trip. All these trip lengths can be completed in a modern EV, multiple short trips would be easily completed on one single charge.
Most common trips in the North West were; commuting (15%), school run (6%) or shopping (20%). Since 2017 there has been an influx of chargepoints installed in supermarket carparks, allowing shoppers to use the facilities whilst they shop. Charge My Street has also installed chargepoints across various locations in the North of England allowing users to charge their vehicles away from the home. Locations such as; Community centres, Campuses and Sports facilities have been installed allowing users to complete their most common trips without the stresses of range anxiety.
Price
Like any vehicle there are some very expensive high-end, headline models made by niche producers such as Tesla and BMW yet mainstream manufacturers such as Nissan and Renault are now producing electric vehicles in high volumes. Vehicles are a major expense frequently helped through finance deals. Electric vehicle manufactures have very competitive finance deals for their vehicles, such as a new Nissan Leaf for £325pm. On top of that, the government incentive is still available to receive a £3000 car grant towards a new ultra-low emissions vehicle.
As more manufacturers enter the electric vehicle market the purchase costs are falling sharply. Running costs are already firmly skewed toward electric vehicles. A comparison of the electric Renault Zoe and petrol Clio show that costs per mile are nearly 4 times less. You even get free road tax.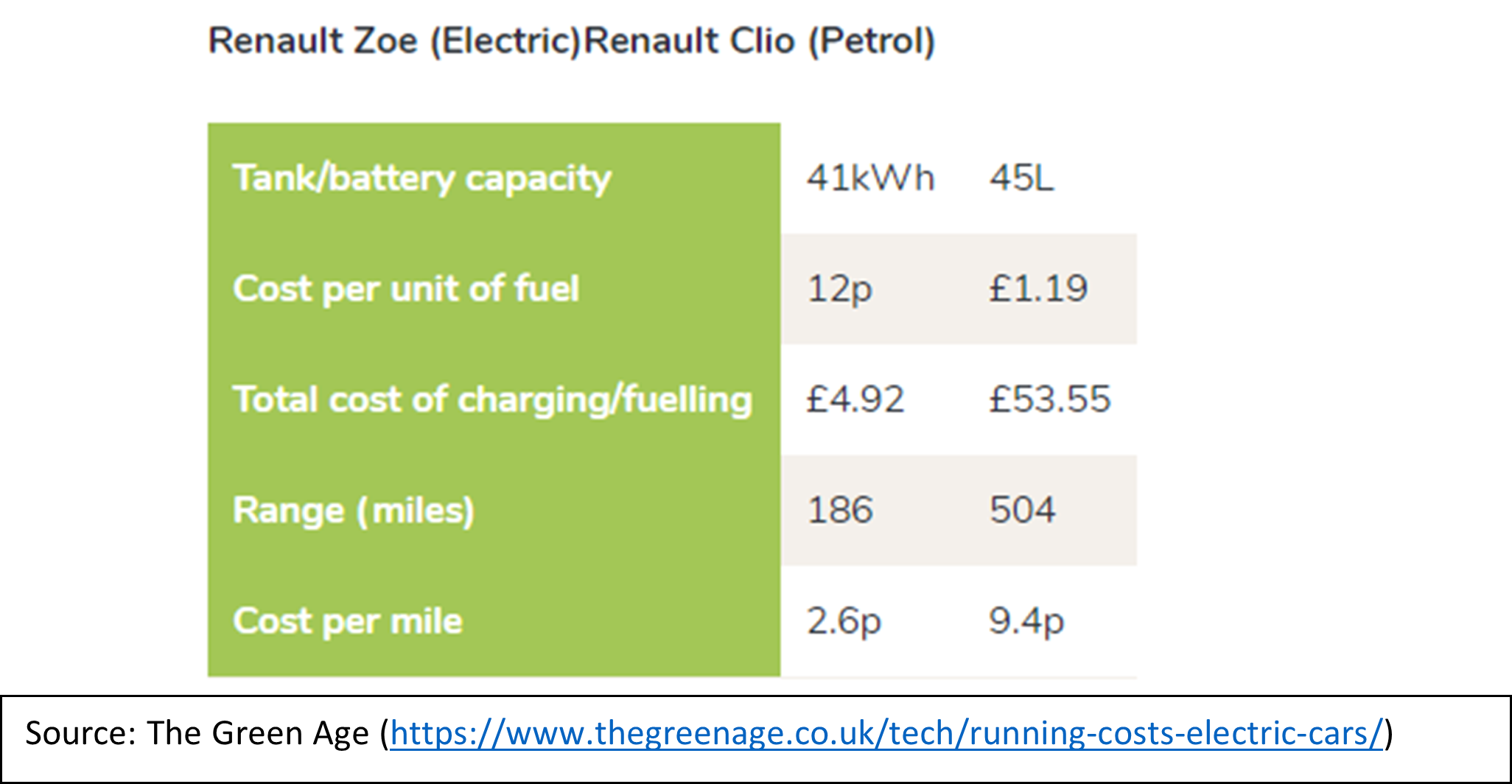 Although the upfront cost appears high for an electric car, currently 91.7% of new cars and 64% of used cars are sold are on lease, PCP or finance – very few people buy EVs outright. A new Renault Zoe is currently a £26,000 vehicle, which is available through Renault for £299PM, in comparison to a Mercedes A Class at the same price. The Zoe has reduced running costs, privileged parking, exemptions from charges for entering Ultra Low Emission zones and tax incentives which quickly improve the case.
As the demand for EV's grows, the price of vehicles will also start to fall. The used car market has low mileage Nissan Leafs available for £7353 or £135 per month, a price most consumers would pay for a 2013 vehicle which would cover 96% of their journeys in a single charge and almost pay for itself in fuel savings
According to ZapMap journey cost calculator, for a commuter driving a new Renault Clio (0.9l TCe GT) living in Kendal and driving to Lancaster 5 times a week it would cost them £5.13 per journey, £25.65 per week and an eye watering £1872.00 annually for this journey alone. If the commuter switched to a Renault Zoe (Q90 Dynamique) it would cost; £2.32 per journey, £11.60 per week and £847 annually (75% less) saving over £1000 a year on fuel alone.
In the used market there are a few differences in pricing, but not by much. The used Renault Clio (0.9L Dynamique 2013) driver paying £163.87p/m on HP would pay £5.29 per journey and £1931 annually on fuel, equalling £322.57 Per Month or £3891.64 for fuel and HP annually. The Renault Zoe (Q210 Dynamique 2013) driver paying £112p/m on HP would pay £2.24 per journey and £818 annually on fuel, equalling £156.80 Per Month or £2162 for fuel and HP annually in total.
If not charging the vehicle at home the commuter would need to charge the car on average 3 times a week, there are multiple charging locations in Lancaster so dependent on work location the commuter could charge as they're at work and come to a charged vehicle.
As we grow, gain experience, and interact with community projects and partners across the UK we will post useful resources - links, documents etc - here. So check back periodically to see who we've been talking to.